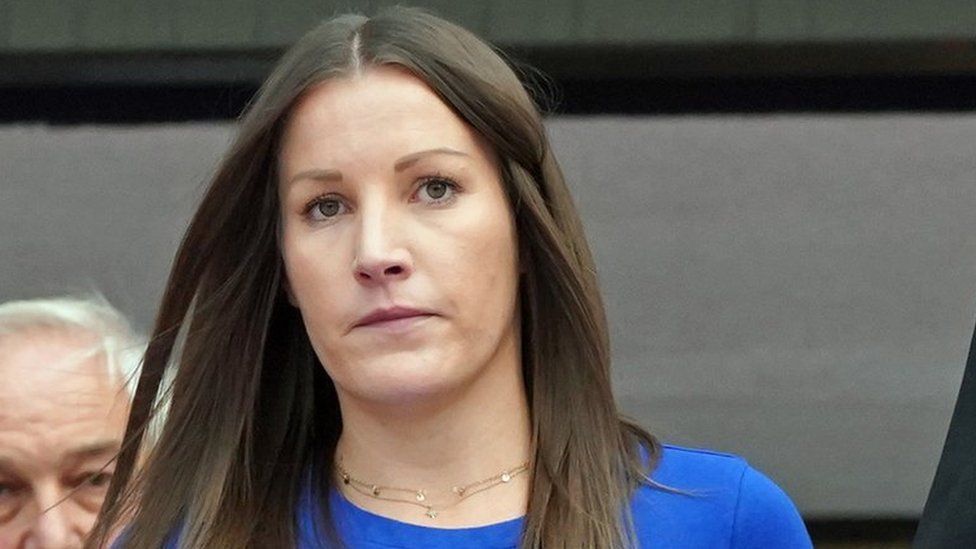 A PC who repeatedly struck ex-footballer Dalian Atkinson on the night he was killed by her colleague has been found guilty of gross misconduct.
Mary Ellen Bettley-Smith hit the former Aston Villa striker six times with her baton as he lay on the ground in 2016.
A disciplinary panel decided the West Mercia Police officer used excessive force, but ruled she could keep her job and gave her a final written warning.
Mr Atkinson's sister said she was "very disappointed" with the outcome.
The Atkinson family's lawyer said the fact PC Bettley-Smith remained in her job was "an insult to them".
PC Benjamin Monk was jailed for manslaughter in 2021, having tasered the 48-year-old and kicked him in the head outside his father's house in Telford, Shropshire.
His colleague and partner, PC Bettley-Smith was acquitted of actual bodily harm at a retrial last year, however, the police watchdog called for a gross misconduct hearing.
The panel could have sacked the 33-year-old, but was instructed to also consider a final written warning by the force's deputy chief constable.
It previously heard how the officers, who were in a relationship at the time, had responded to a 999 call and arrived to find Mr Atkinson appearing "in the grip of a psychotic episode".
PC Bettley-Smith initially struck him three times, which the panel agreed were lawful.
But it found a further three strikes were "unnecessary, disproportionate and unreasonable in all the circumstances and therefore unlawful".
Mr Atkinson died after being tasered and kicked at least twice in the head by Monk, who was a more experienced officer.
The panel was told PC Bettley-Smith used her baton on the former player, claiming she "perceived" he was trying to get up.
However, several civilian witnesses recalled Mr Atkinson "was not moving" and "was not resistant".
The independent tribunal decided she had acted wrongly when she struck him again after police back-up arrived.
Earlier in the week the panel had been told Mr Atkinson had been "beset by health problems" before his death, including end-stage kidney failure needing dialysis and significant heart problems.
The ex-footballer, who started his career at Ipswich Town before moving to Sheffield Wednesday, Real Sociedad, Aston Villa and Fenerbahçe in the 1990s, died about an hour after the assault.
'Outrageous'
Monk's criminal trial heard police had been called to Meadow Close at about 01:30 BST on 15 August 2016, where Mr Atkinson was in the midst of a mental breakdown and had been claiming to be the Messiah.
Judge Inman said he had "suddenly lost touch with reality" and was "unrecognisable" to those who knew him.
When the officers arrived they claimed to be "terrified" of the sportsman.
Prosecutor Dijen Basu KC earlier told the disciplinary panel PC Bettley-Smith's second set of strikes were "wholly unreasonable, wholly unjustified and above all, to use normal language, it was outrageous to do that in the circumstances".
The officer, who denied using excessive force, said in evidence: "I just remember what I perceived to be a really aggressive, hostile, growling and just thought we had antagonised him even more by tasering him."
But three different residents watching from their windows described how Mr Atkinson lay still on the ground after being tasered, with one adding, "when he fell – he never moved".
Delivering the panel's findings, chairman Karimulla Khan said: "In those circumstances, the panel finds the first three baton strikes were lawful.
"There was then the intervening kick, by PC Monk, at which point, PC Bettley-Smith then applied a second set of three baton strikes.
"And the panel finds that the second set of three baton strikes were unnecessary, disproportionate and unreasonable in all the circumstances and were therefore unlawful."
Following the decision, Mr Basu said PC Bettley-Smith's conduct had been serious but the circumstances had also been complex and fast-moving, and the panel had looked at her actions in context.
"She was plainly on the periphery of the actions taken by PC Monk, which were entirely different, several stages of magnitude different."
Patrick Gibbs KC, acting for PC Bettley-Smith, said the past six and a half years had been "significant punishment in itself".
He said her conduct until that moment had "been admirable, certainly unimpeachable" and that her unlawful baton strikes had occurred in the space of a 27-second period, following which she had again presented "admirable conduct".
"This involves a miscalculation in the heat of moment in the degree of force which still now needed to be used," he added.
Mr Atkinson's older sister, Elaine, said the family had been "shattered" by his death and she thought PC Bettley-Smith's action were serious enough that she should be sacked.
"I am disappointed really with the outcome. At the end of the day, Dalian's gone and it's down to those officers… it shouldn't have happened."
Asked if she felt PC Bettley-Smith was an officer who should still be in the job protecting the public, she replied: "I, personally, don't think so."
The family's solicitor, Kate Maynard, said they welcomed the gross misconduct ruling but "the fact that she remains in her job is an insult to [them]".
"It's been seven years and they've found themselves involved in various complex legal proceedings, and it's taken a massive toll on them," she explained.
"It is disappointing that the last word on this matter is that PC Bettley-Smith keeps her job. You have to ask what it takes to remove an officer from their duties."
In a statement, West Mercia Police's deputy chief constable Alex Murray said the force extended its "sincerest condolences" to the family.
"We know there is no end to the grief they have to live with, and our thoughts are with them," he said.
Mr Murray added the panel had been overseen by an independent chairman and was made up of people from outside the force.
"At the hearing… PC Bettley-Smith was given the opportunity to explain her actions. This follows the national procedure.
"On the night Dalian died, police were called to protect him, his family and the public but that did not happen. As a result, PC Ben Monk is in prison.
"PC Bettley-Smith, who was a student officer at the time, was acquitted at court of criminal wrongdoing."
The Independent Office for Police Conduct, which found the officer had a case to answer after its investigation in 2018, said it was satisfied with the outcome.
Its regional director Derrick Campbell added: "The vast majority of police officers do a very difficult job, in often very difficult circumstances, and are given huge powers to protect us and we expect them, when they use those powers, to use them in a reasonable and proportionate way."
Related Topics
Related Internet Links
The BBC is not responsible for the content of external sites.
Note: This article have been indexed to our site. We do not claim legitimacy, ownership or copyright of any of the content above. To see the article at original source Click Here