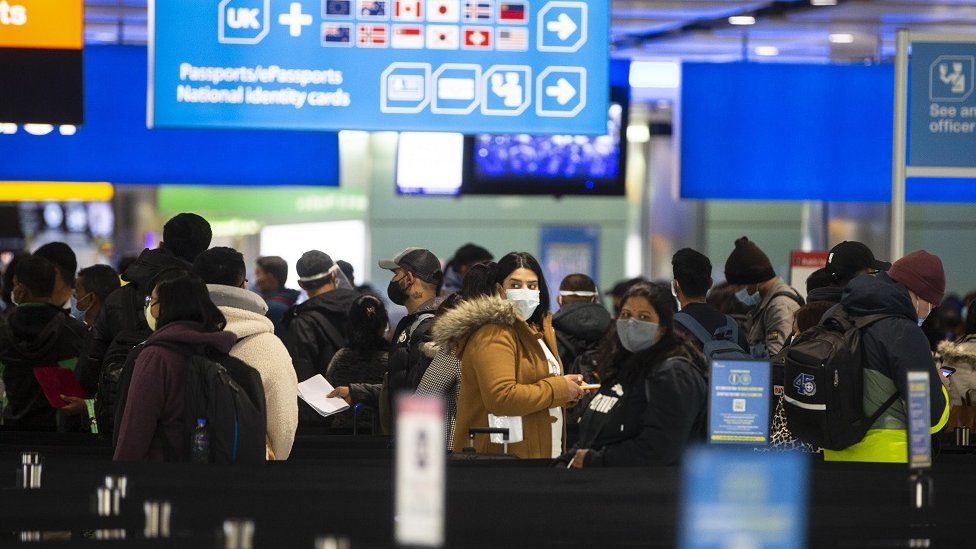 By Rachel Russell & James Gregory
BBC News
More than 1,000 Passport Office workers will go on strike for five weeks over a dispute about jobs, pay and conditions, unions say.
Members of the Public and Commercial Services union working across England, Scotland and Wales will take part in the action from 3 April to 5 May.
Those working in Belfast will strike from 7 April to 5 May.
The union warned of delays to applications and the delivery of passports in the run-up to summer.
The Home Office said it was "disappointed" with the PCS's decision.
A spokesperson added: "We are working to manage the impact of strike action whilst ensuring we can continue to deliver vital services to the public, with comprehensive contingency plans in place."
More than 4,000 people are employed by the Passport Office across the UK, meaning that according to the union figures around one in four workers will be walking out.
The union says strike action is being targeted to cause mass disruption and involves members working in departments which examine passports – more than 1,300 people.
The offices affected in England, Scotland and Wales will include Durham, Glasgow, Liverpool, London, Newport, Peterborough and Southport.
At peak times – including the month of April when the strike will take place – the Passport Office can receive 250,000 applications per week, according to travel expert Simon Calder.
It means that more than one million applications could be sent during the strike period, he said.
The Home Office says the strike does not affect its guidance which is still to allow up to ten weeks to get a passport, with preparations under way to meet demand.
Current waiting times for first adult passports are just over 18 days while renewals are just over 14 days, according to an independent crowd sourcing website which relies on people inputting their own application wait times.
But news of the strike has given rise to fears passports will not be processed in time for some people's holidays this summer.
Mark Smith, from Buckinghamshire, has terminal cancer and says his trip to Australia later this year is his last opportunity to visit his daughter and be there for the birth of his granddaughter. He believes whether he is able to go is now a "total lottery" because his wife's passport will need to be renewed.
"My wife told me her passport expires in November and I thought 'Well we still have time'. Now it's a total lottery.
"We will do the application and send the photos but it may disappear for months."
Another worried holidaymaker is Simon Fulton, from Newcastle, who sent off four passports for renewal on Thursday ahead of a family holiday to Croatia this June.
"If they're on strike for a month there's likely to be a massive backlog to get through," he said.
"I don't want to be waiting until the last week to find out if we can go – it's a £5,000 holiday.
"I sympathise with them [the workers] in the cost of living crisis [and] I know it's designed to make the government sit up and do something, but it feels like it's been constructed to cause a big delay which doesn't help a lot of people."
A UK adult passport is valid for 10 years, but if it is due to expire you may be refused entry into some countries.
Most countries require the passport you are travelling with to be valid for the duration of your planned stay, but other countries – mainly ones where you need visas for entry – require a passport with a certain period of time left until the expiry date. Guidance for each country can be found on the government's foreign travel advice website.
PCS general secretary Mark Serwotka said the dispute was over a proposed 2% pay rise which he said was not being increased any further by the government.
He added the strike action had come about because "ministers have failed to hold any meaningful talks".
He added: "They've had six months to resolve this dispute but for six months have refused to improve their 2% imposed pay rise, and failed to address our members' other issues of concern."
A strike fund worth millions, funded by a levy from PCS members, has been built up to pay staff in full during the course of the five-week walkout, the union says.
The fund is growing by nearly £1m every month, Mr Serwotka told BBC News.
"All our members in the passport office will get financial support from the colleagues in the union and that means we can sustain not just this strike but many more like it for months to come", he said.
Are you worried about the potential delays to passport processing? Share your experiences by emailing [email protected].
Please include a contact number if you are willing to speak to a BBC journalist. You can also get in touch in the following ways:
If you are reading this page and can't see the form you will need to visit the mobile version of the BBC website to submit your question or comment or you can email us at [email protected]o.uk. Please include your name, age and location with any submission.
Related Topics
Note: This article have been indexed to our site. We do not claim legitimacy, ownership or copyright of any of the content above. To see the article at original source Click Here