Serious adverse events remained rare and skin remained largely clear in adolescents treated with dupilumab (Dupixent) for moderate-to-severe atopic dermatitis (AD) for up to 52 weeks in a phase 3 open-label extension trial, researchers reported.
At 1 year, 86% of 50 remaining patients with weights under 60 kg (132 lb) had achieved 75% improvement (EASI-75; Eczema Area and Severity Index), and 77% of 51 remaining patients with weights over 60 kg reached that level of clearance. Only 5 (1.7%) of 294 patients had serious treatment-emergent adverse events (TEAEs).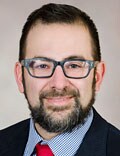 Dr Eric Simpson
The findings back up a perception that patients can stay on dupilumab for some time instead of having to switch from one biologic to another after a few years, study co-author Eric Simpson, MD, professor of dermatology, Oregon Health & Science University in Portland, said in an interview. He added that the drug's long-term safety profile is "very reassuring."
The industry-funded findings of the study were released in a poster at the 2021 meeting of the World Congress of Pediatric Dermatology.
The FDA approved dupilumab, an interleukin-4 receptor alpha antagonist, for treating AD in adults in 2017; it is now approved for treating patients ages 6 years and older with moderate-to-severe atopic dermatitis whose disease is not adequately controlled with topicals.
The new study tracked patients who received at least 300 mg dupilumab subcutaneously every 4 weeks. The dose could be increased if needed to improve clinical response to once every 2 weeks (200 mg if baseline weight was
At 52 weeks, 37% of 52 patients with weights under 60 kg reached an Investigator Global Assessment (IGA) of 0/1, a level that had been fairly steady since week 16 (n=146). Among 51 heavier patients, 49% reached an IGA of 0/1 at 52 weeks; this percentage grew steadily since baseline.
The mean percentage change in EASI was -87% in the lower-weight group (n=50) at 52 weeks and -80.1% in the larger-weight group (n=51). The majority of the reduction in EASI occurred in the first 4 weeks of treatment.
At 52 weeks, the mean Children's Dermatology Life Quality Index level, which judges the effect of AD on life, was judged as "small" (low) in 71 patients. At baseline, the mean level among 189 patients was "moderate." The levels dipped below "moderate" at week 4 and never rose above "small" after that.
"Treatment-emergent adverse events (TEAEs) reported in ≥5% of patients were nasopharyngitis (21.1%), AD (19.4%), upper respiratory tract infection (12.4%), headache (9.4%), and oropharyngeal pain (5.7%)," the investigators write in the poster. They add that 6.7% of patients experienced injection-site reactions, and 8.7% of patients experienced treatment-emergent "narrow conjunctivitis," which includes conjunctivitis, allergic conjunctivitis, bacterial conjunctivitis, viral conjunctivitis, and atopic keratoconjunctivitis.
Simpson noted that cases of conjunctivitis fell over time. It's not clear why this adverse effect appears, he said.
He said that the findings reflect his own experience in clinic. Many of his adolescent patients took part in early dupilumab trials, he said, and dozens have been taking the drug for more than 5 years. "They just seem to get better and better," he said.
University of Minnesota dermatologist Sheilagh Maguiness, MD, who wasn't involved with the study, told Medscape Medical News that dupilumab remains "the safest, most effective and evidence-based therapy we had for children with moderate to severe atopic dermatitis."
The new study's findings are "very reassuring," she said, and similar to those in a 2021 report that tracked long-term use of the drug in children aged 6-11.
Like Simpson, Maguiness said many pediatric patients at her clinic have stayed on the drug for more than 5 years. They still have "sustained improvement in skin disease and in their quality of life as well," she said.

Dr Sheilagh Maguiness
There are, however, still questions about dupilumab treatment, she conceded. "For children who have responded well, when could we consider dose reduction or discontinuation? I have done this successfully just a handful of times, but I would love to see data about what percentage of pediatric patients experience rebound disease after coming off the drug and after what duration of treatment," she said. "Another mystery that will be very interesting to unravel is the question as to whether or not early treatment with dupilumab may attenuate other atopic diseases."
Maguiness added that "another issue specific to pediatric use of dupilumab is the recommendation surrounding vaccinations. This is an issue that should be studied in terms of antibody response and safety surrounding vaccinations, particularly as we are eagerly awaiting a pediatric FDA approval for the COVID-19 vaccine in children."
She also urged colleagues to push back against insurers who resist paying for dupilumab. "Whether prescribing this medication on- or off-label, insurance companies are often requiring patients to try and fail other traditional immunosuppressive medications such as methotrexate, cyclosporine, or to pursue phototherapy," she said.
"Oftentimes, these are not practical or even safe options for children for a multitude of reasons. Don't be shy about advocating for your patients by second- or even third-level appeals to try and gain approval for children who are in need of treatment."
The study was funded by Sanofi Genzyme and Regeneron Pharmaceuticals. The study authors report various disclosures. Simpson reports investigator (AbbVie, Eli Lilly, Galderma, Kyowa Hakko Kirin, LEO Pharma, Merck, Pfizer, Regeneron) and consultant fee relationships (AbbVie, Boehringer Ingelheim, Dermavant, Eli Lilly, Forté, Incyte, LEO Pharma, Menlo Therapeutics, Pfizer, Pierre Fabre Dermo-Cosmetics, Regeneron, Sanofi Genzyme, Valeant). Maguiness was an investigator for one of the initial pediatric dupilumab trials.
World Congress of Pediatric Dermatology: Abstract P22. Presented
September 23, 2021.
Randy Dotinga is a freelance journalist who covers medicine and health.
For more news, follow Medscape on Facebook, Twitter, Instagram, YouTube, and LinkedIn
Note: This article have been indexed to our site. We do not claim ownership or copyright of any of the content above. To see the article at original source Click Here