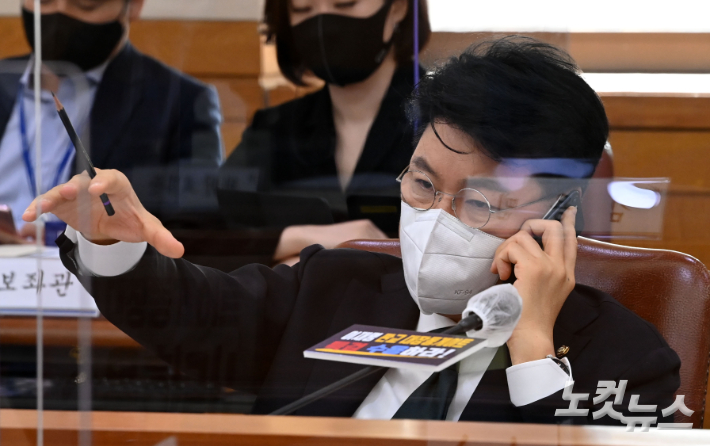 National Assembly member Jang Je-won, the People's Power, held at the Supreme Court in Seocho-gu, Seoul on the 1st. The Legislative and Judiciary Committee is talking on the phone to the Supreme Court (Judicial Office) and the National Audit of the Judicial Research and Training Institute. Reporter Hwang Jin-hwan People's Power The national petition asking for the removal of member Jang Je-won's office is 200,000, which is the standard for the official response of the Blue House.
This petition is based on a rapper Noel (real name Jang Yong-jun) who was charged with assaulting a police officer who requested a breathalyzer while driving without a license during the probation period. It started with the intention of holding the responsibility to his father, Rep. Jang, as the controversy continued over the issue. The petition titled 'I want you' has received more than 205,000 signatures. It has been 9 days since it was released on the 23rd of last month. The confidence that I was able to commit the crime was because the father of a member of the National Assembly existed." He added, "
Driving without a license Rapper Noel (21, real name Jang Yong-jun), accused of assault, appears at the Seocho Police Station in Seoul on the 30th of last month. Reporter Park Jong-min Previously, Noel was driving a Mercedes Benz in Banpo-dong, Seocho-gu, Seoul around 10:30 pm on the 18th of last month, and was driven by another car.
The police who arrived at the scene suspected Noel's drinking and requested a breathalyzer and identification, but Noel refused and lifted the policeman's head. The current offender was arrested on charges of refusing to take a breathalyzer test under the Road Traffic Act, driving without a license, and obstructing the execution of official duties. He was sentenced to two years of probation for changing the driver. In April, he was sent for assaulting a passerby on a street in Busanjin-gu, Busan. I will accept the punishment for all my sins and try to become a more mature member of society."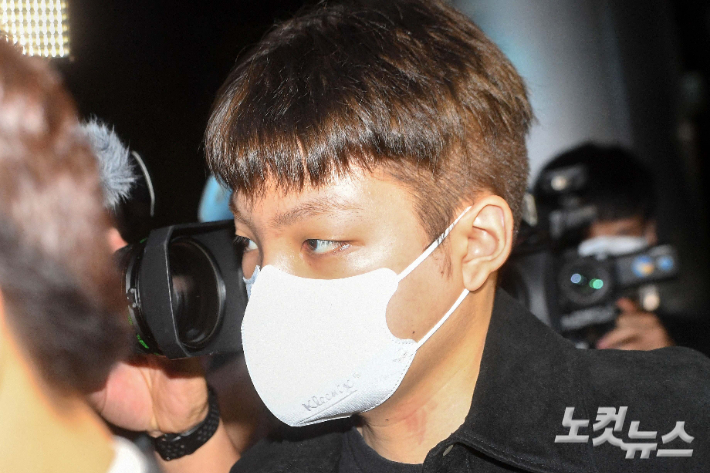 Bae Hyun-jin, the top member of the same party, said at the Supreme Council meeting held at the National Assembly on the 27th of last month, "I saw that he deviated again during the probation period and went up to the Blue House National Petition. As one of the party's highest members and one of the youth of the Republic of Korea, it is very absurd."
As the controversy continued, Rep. Jang posted on his Facebook page the next day on the 28th, "It was hard to hold on for even a minute. I will have a time of self-reflection while deeply reflecting on the sins of my father, who raised me incorrectly." He said, "I am a sinful son, but I will faithfully fulfill my role as a father that I have not been able to do before." At the same time, Yoon Seok-yeol resigned as the head of the general situation office for the presidential candidate's camp. Noel, who appeared with his lawyer to receive the suspect's investigation that day, did not answer the reporter's questions such as "Did you drink and drive" and "Why did you refuse to take a breathalyzer?"
Cheongwadae National Petition Captured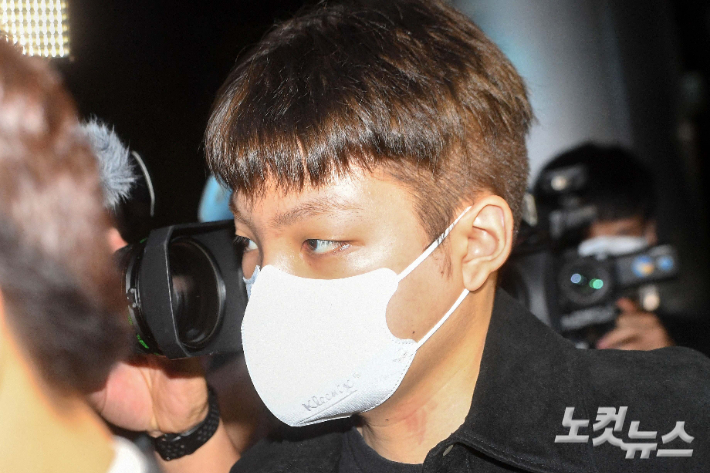 Note: This article have been indexed to our site. We do not claim ownership or copyright of any of the content above. To see the article at original source Click Here