A bottleneck in the US physician training and education pipeline limits entry into residency programs and ultimately hampers provider supply and access to care, according to a new report.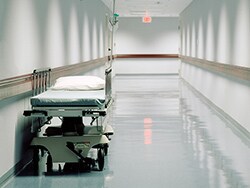 The analysis, by nonpartisan think tank Niskanen Center, found that the US has "substantially fewer" physicians per capita than other developed countries. For example, the US has just 3.1 primary care physicians (PCPs) per 10,000 people compared with 7.6 and 13.0 PCPs per capita in the United Kingdom and Canada, respectively.
These shortages encourage reliance on "high-intensity, low-access care," like the emergency room, a shift that is "harmful because provision of the most basic medical services is generally recognized to have the greatest marginal impact on population-level health."
This is the second report in as many months to suggest a major overhaul to medical residency, following a series of recommendations recently by the Coalition for Physician Accountability.
Soumya Rangarajan, MD, MPP, clinical faculty in geriatric and palliative medicine at the University of Michigan Medical School, told Medscape Medical News severe downstream effects are imminent. "When people do not have a PCP, they go to the emergency department" for primary care. Without "enough physicians to serve our communities," she says, extended wait times become the norm, and likely increasingly so with the forthcoming "silver tsunami."
Physician shortages in the US persist, says the report, not because of "lower interest, less capable citizens or less generous remuneration," but "because of the remarkable degree to which its physician pipeline filters out entrants into the profession" — a consequence of decades-old policies.
Residency Bottleneck Creates "Enormous Waste of Talent"
With "the moratorium on allopathic medical enrollment" lifted, the number of medical school graduates has grown substantially, yet the physician supply remains constrained. Since licensure requires at least 1 year of residency training, a lack of available slots has created a critical bottleneck in the pipeline.
"The number of aspiring physicians who are capable of entering and subsequently completing a residency is ultimately determined by the financial costs and benefits of such programs," says the report. As a result, hospitals will be reluctant to add a slot "unless subsidized by third-party payers," like Medicare, if the costs are deemed excessive.
Without this final step in their training, newly graduated MDs "are effectively locked out of the profession they have spent years preparing for," the report notes. In 2020, more than 2900 medical school graduates went unmatched compared to approximately 1000 in 1980.
According to Rangarajan, some unmatched graduates may qualify for assistant physician programs, where they work under a licensed physician. Otherwise, saddled with crippling debt and unable to quickly pivot to another field without returning to school, says the report, "the residency bottleneck…results in an enormous waste of persons and talent."
Historical Policies Have Unintended Consequences
In 1965, facilities began receiving "substantial financial support for medical training and education programs" from Medicare, and to a lesser extent, Medicaid. However, no formal agreement was ever made with private insurers to provide Graduate Medical Education (GME) funding, so residency programs "became reliant upon government support, delivered overwhelmingly through Medicare" and Indirect Medical Education (IME) reimbursements.
Policymakers remained focused on increasing physician supply until 1980, when rising costs and projected physician surpluses prompted "MD-granting medical schools…to a voluntary freeze on new slots" and halt the construction of additional medical schools.
While this move temporarily slowed primary care residencies, an "explosion in subspecialties" generated alternative avenues for interns and residents, driving up the number of specialists and simultaneously producing a shortage of PCPs.
During this time, accrediting boards also established more stringent standards for teaching hospitals, thereby diminishing the size and profitability of existing residency programs. The 1997 Balanced Budget Act then reduced IME reimbursement and "capped Medicare's number of funded residency slots at 1996 levels," eliminating Medicare funding for residency slots above this cutoff.
The Case for Residency Reform
Despite decades of legislative interventions, postgraduate residency training remains "hamstrung by its fractious design and needless complexity," says the report. A straightforward and predictable GME financing system would likely spur new residency programs, and ideally, distribute them more equitably throughout the US instead of the current concentration located in the expensive metropolitan areas of the Northeast.
But "nothing is going to get better until we increase funding," says Rangarajan. The Niskanen Center report recommends boosting reimbursement rates for PG-1 residents to defray the costs associated with starting a residency program. Creating a federal health system development bank would provide the financial support necessary to launch programs and additional medical schools across the nation.
Also beneficial is using a uniform, per-resident funding strategy that is "blind" to the insurer, diagnosis, and care setting. This method eliminates the "funding biases" that affect institutions with fewer beds or Medicare patients. In addition, blinding the care setting "would promote greater experimentation in settings [like outpatient] that are more likely to be relevant to a physician's future medical practice."
Reform has its challenges. Given that Medicare and Medicaid primarily fund medical residencies, says the report, "the problem is eminently within the powers of the federal government to fix."
Steph Weber is a Midwest-based freelance journalist specializing in healthcare and law.
For more news, follow Medscape on Facebook, Twitter, Instagram, and YouTube.
Note: This article have been indexed to our site. We do not claim ownership or copyright of any of the content above. To see the article at original source Click Here