Meet with major business leaders such as President Moon, Eui-sun Eui-sun, and Choi Tae-won and receive a report on the hydrogen economy
Promises such as "Building more than 2,000 hydrogen refueling stations by 2050"
"Companies and governments are one team for a hydrogen-leading nation"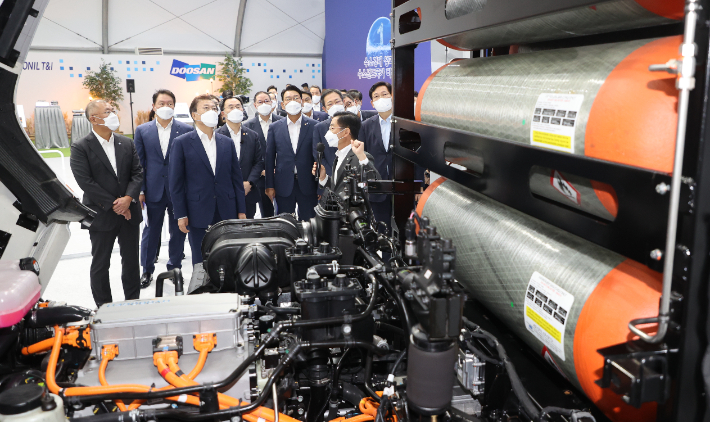 After President Jae-in reported on the hydrogen economy performance and the vision of a hydrogen-leading nation held at the planned investment site for the Hyundai Mobis hydrogen fuel cell plant in Seo-gu, Incheon on the 7th, and after completing the groundbreaking ceremony for the next-generation hydrogen fuel cell specialized complex I am listening to the explanation of the hydrogen tank inside Rotem's hydrogen truck. yunhap news President Moon Jae-in visited Cheongna district in Incheon on the 7th and received a report on hydrogen economy performance, promising that "by 2050, more than 2,000 hydrogen refueling stations will be built."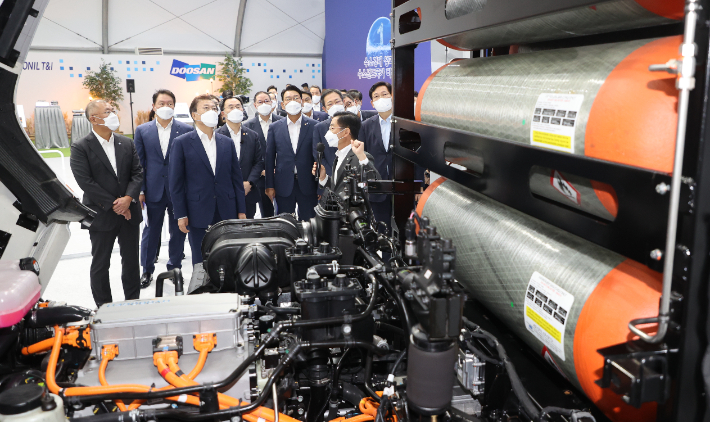 President Moon said on the same day that Hyundai Mobis was building a special production and research cluster in the Cheongna district of Incheon to supply next-generation hydrogen fuel cells.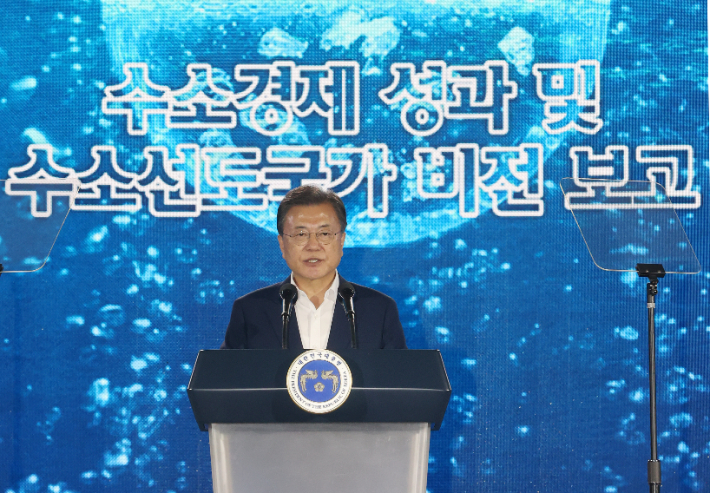 was reported.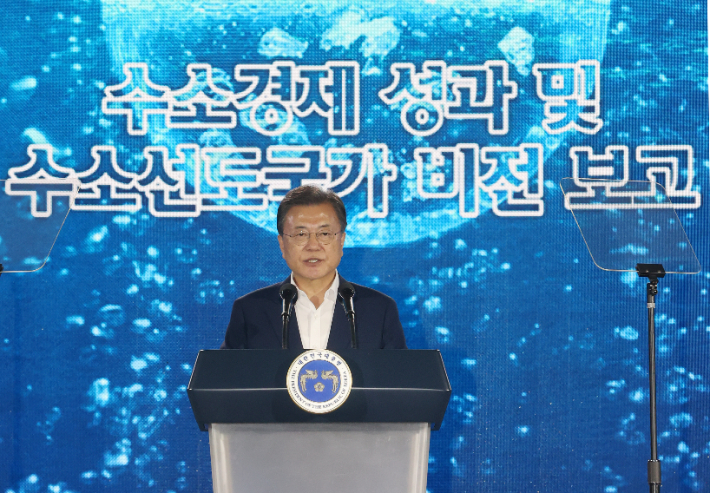 About 70 people, including the heads of major conglomerates, the government, local governments, hydrogen industry companies, public enterprises, and related organizations attended the event. Just before the event, President Moon had a pre-interview with business leaders including Hyundai Motor Chairman Chung Eui-sun, SK Chairman Choi Tae-won, POSCO Chairman Choi Jung-woo, Hyosung Vice Chairman Cho Hyun-sang, GS Energy President Huh Yong-soo, Hyundai Heavy Industries Vice Chairman Ki-seon Ki-sun, and E1 Executive Vice President Koo Dong-hwi.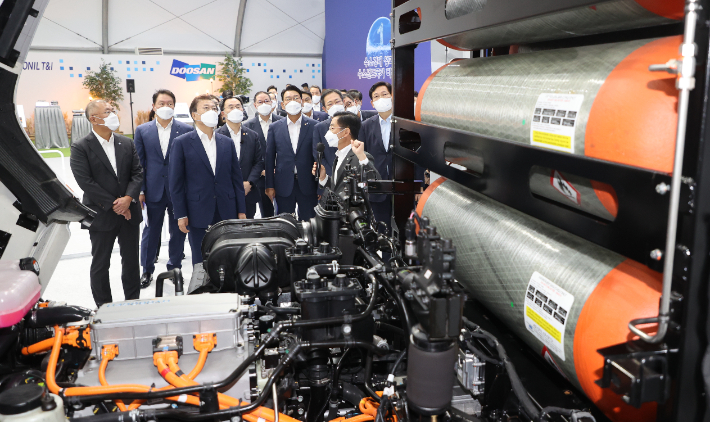 President Moon said in his remarks at the event, "Hydrogen is the first democratic energy source in history that can be obtained equally anywhere on the planet. He said, "Korea, with the world's best innovation capabilities, can become a proud hero of new energy."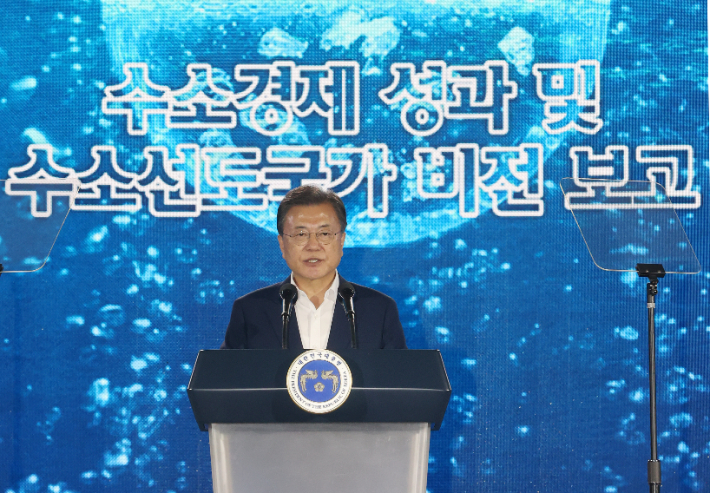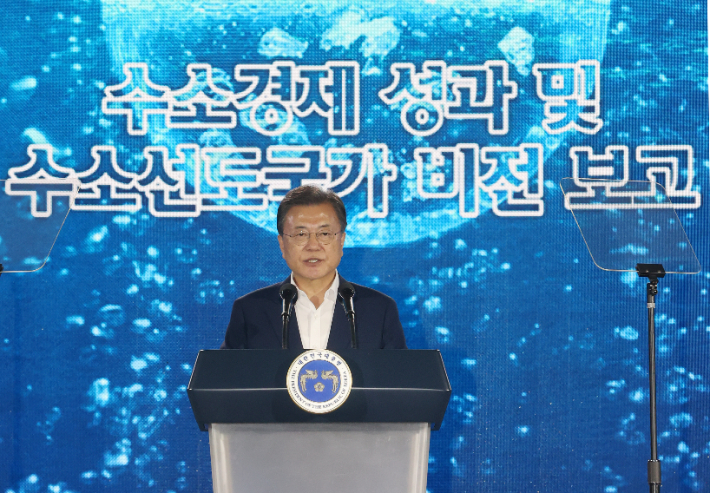 yunhap news In January 2019, President Moon announced the 'hydrogen economy revitalization roadmap', enacted the world's first hydrogen law, and established a pan-government hydrogen economy committee to establish a hydrogen support system. The hydrogen industry ecosystem is revitalized and the economy is growing rapidly as the bold investments of companies and companies add up."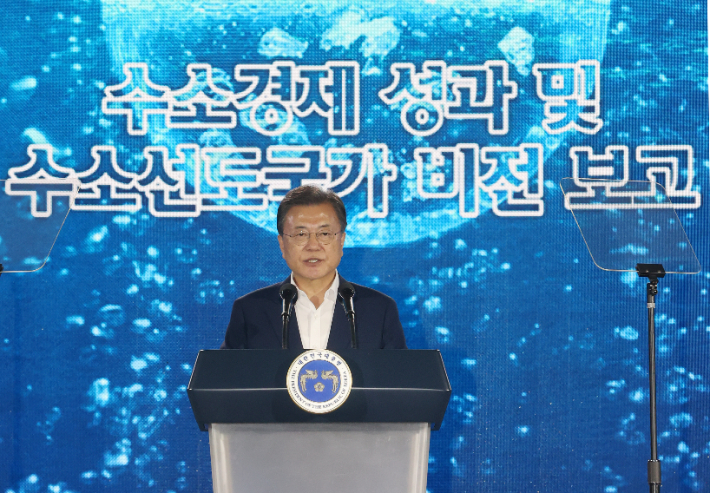 President Moon said, "Hydrogen is a safer energy than lpg, city gas, and gasoline, but there are still many vague concerns. The supply will also expand faster," he added. We made several promises that we would strongly promote 'leading country' as Korea's core future strategy.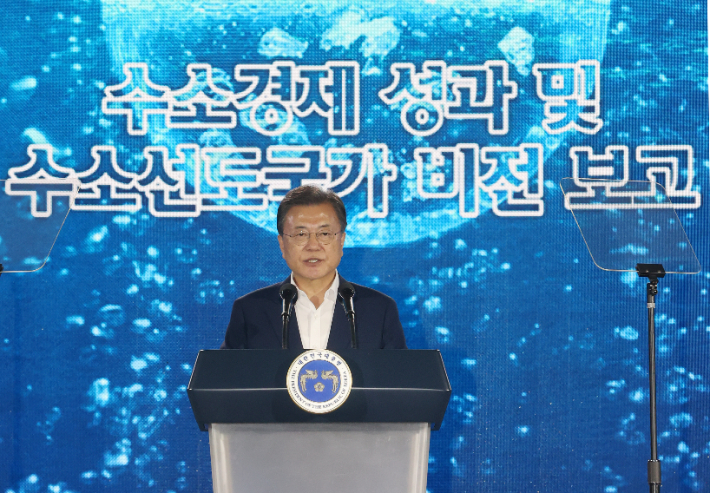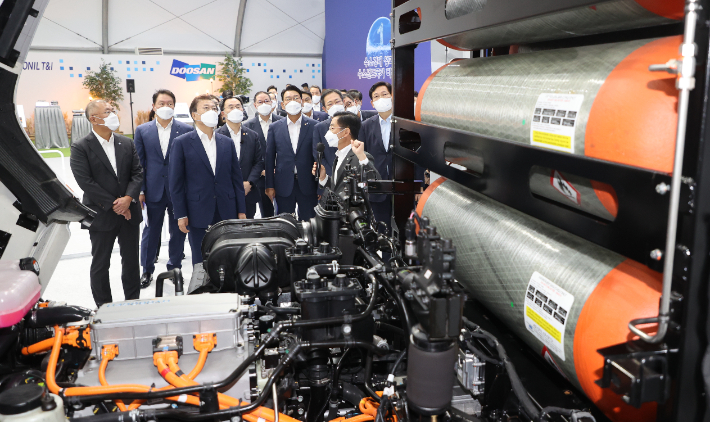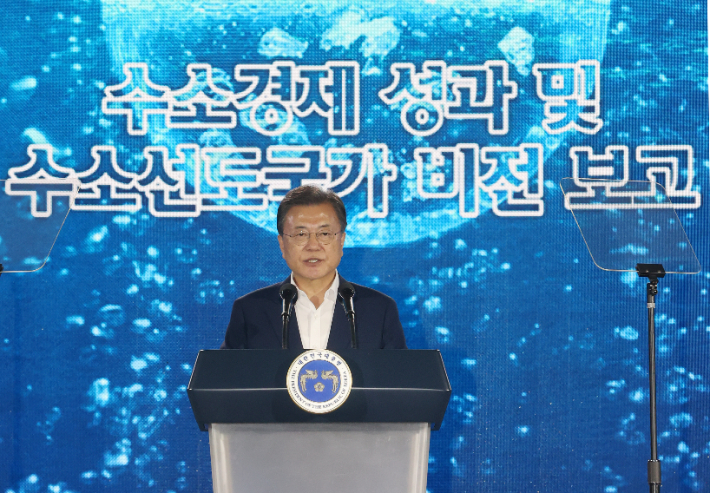 yunhap news Specifically, △Convert the current 100% gray hydrogen supply structure to 100% clean hydrogen by 2050, △Build more than 2000 hydrogen charging stations by 2050, △Hydrogen At the same time as realizing carbon neutrality, which is used in everyday life, △ 'International Hydrogen Initiative' was established to enact trade rules for hydrogen trade.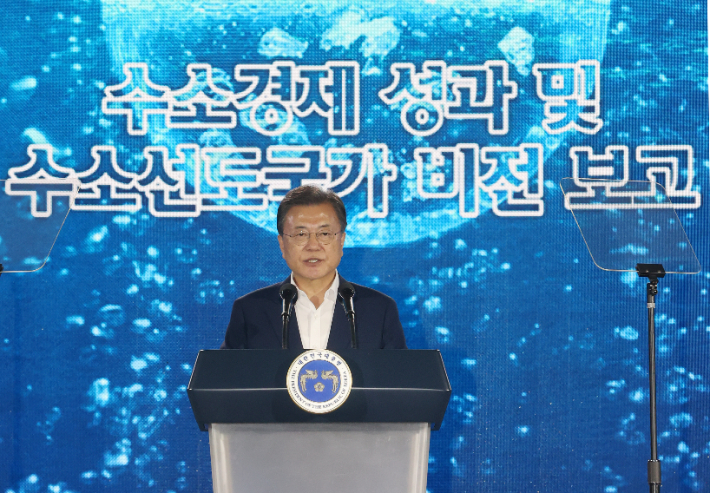 In particular, with respect to hydrogen charging stations, we will create an environment where you can conveniently use the charging stations within 20 minutes in 2030 and within 10 minutes in 2050, and build a nationwide pipeline network sequentially.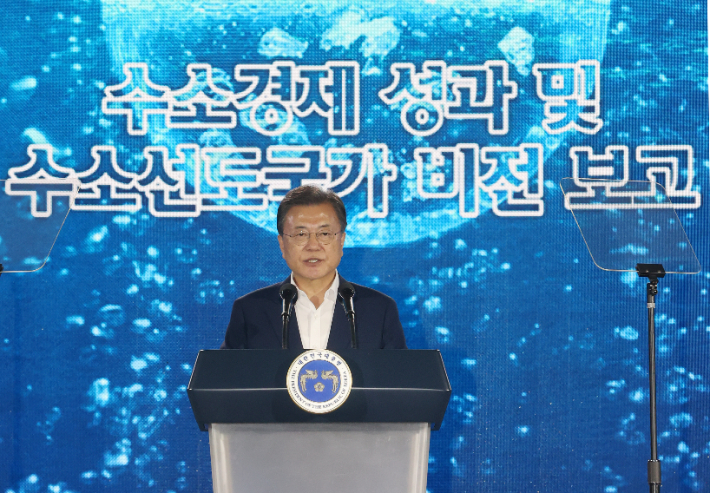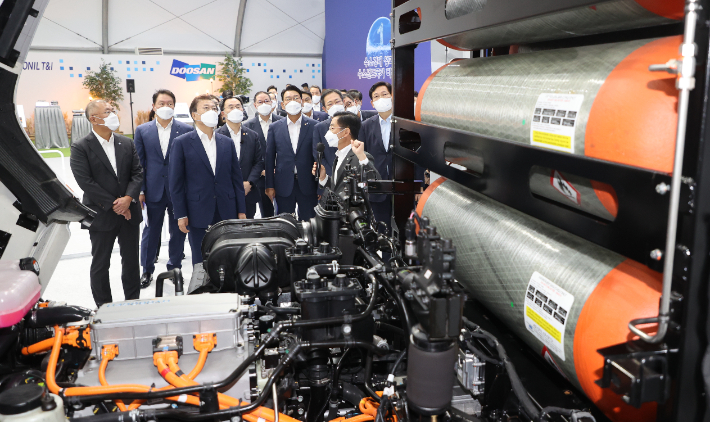 Finally, President Moon said, "The hydrogen economy is still in its infancy, but it is a possibility. "Now, the government and companies are a 'one team' toward a hydrogen-leading nation. Together as 'Team Korea', we will open up the future of Korea, a leading nation in hydrogen."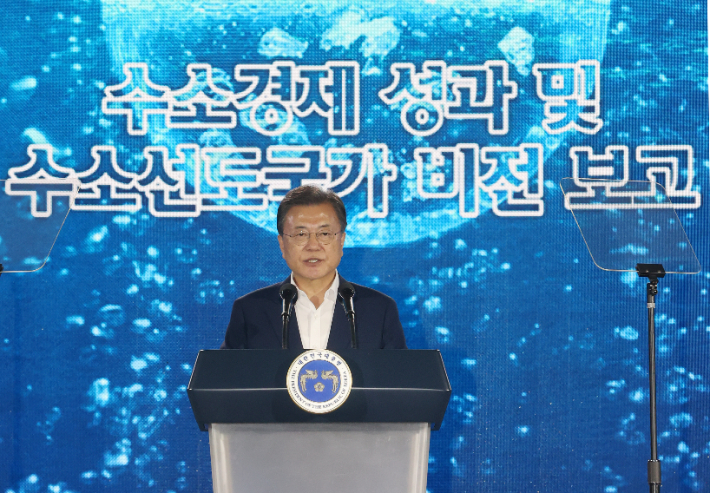 CBS No Cut News Correspondent Jo Eun-jeong Mail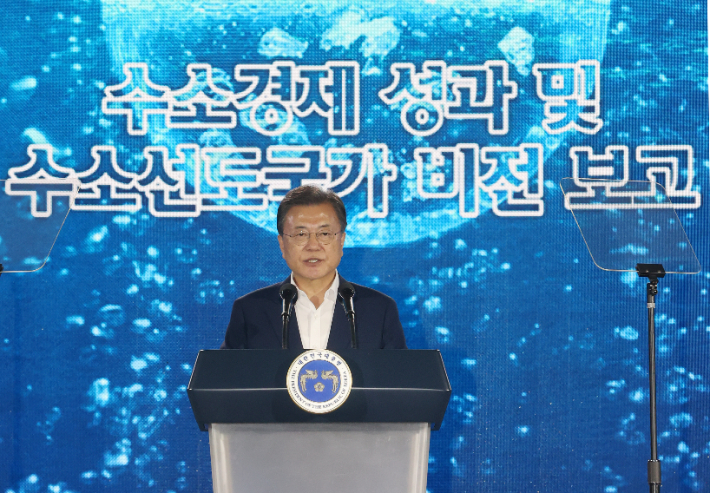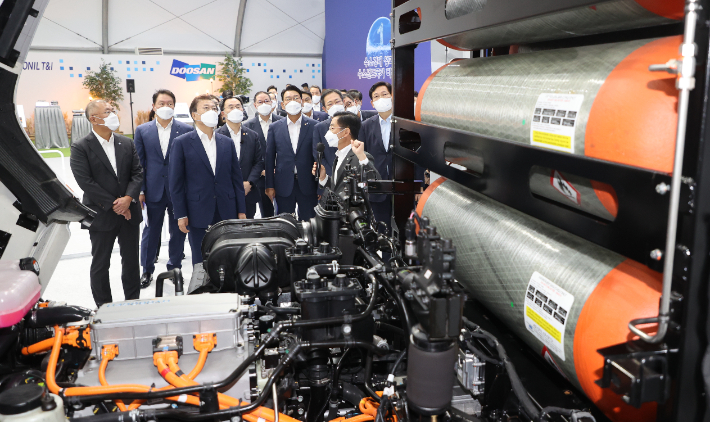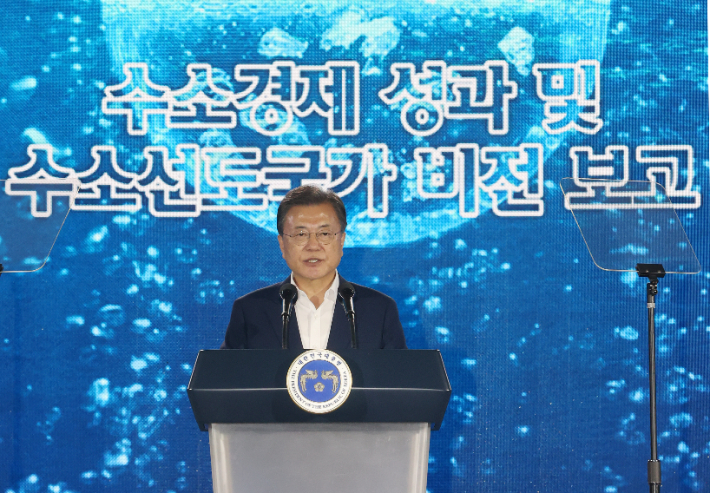 (adsbygoogle=window.adsbygoogle || ).push();