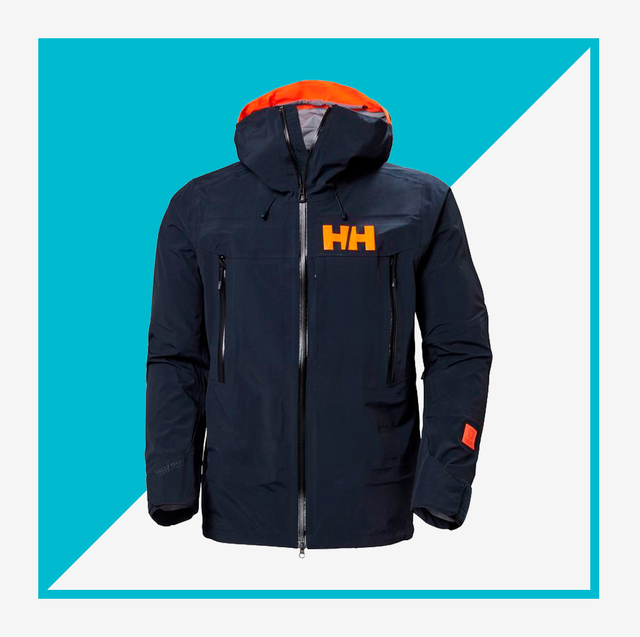 Courtesy of retailers
If you plan to hit the slopes this winter, you'll need more than steady skis or solid accessories (like ski goggles) for a killer performance. A comfortable and functional men's ski jacket is a must-have for even the most casual skiers. But don't jump the gun yet—there's a lot to consider when looking at the best ski jackets or men's ski coats of 2021. Luckily, the best brands in the world have created outerwear picks that will become your winter go-tos.
Depending on your specific preferences, the right jacket for you is out there—complete with waterproof or water-resistant protection and insulating layers to warm your body. But don't worry, they're breathable enough to not overheat you on ski day. And there are countless types of ski jackets for every avid skier, including backcountry skiers. That means you have to know what to look for in your specific ski jacket. Broadly, there are generally three main types of men's ski outerwear: shells, softshells, and insulated jackets.
Shells and Softshells
Shells and softshells are the less intense of the three—an outer layer that's lighter, generally fairly waterproof, and fairly breathable—that you simply layer over your sweater or another jacket. Softshells are even lighter, usually made from a stretchy fabric that you can use for less intense environments.

Insulated Jackets
If you're heading into a more intense environment, a full-blown insulated jacket might be the best buy for you. These cool men's ski jackets are a lot more technical: they usually feature an outer shell, then a layer of insulation, such as Primaloft or Thinsulate. These jackets are much more ideal for colder conditions—or even storms. You might need less insulation if you're in a warmer environment—in which case, opt for 50 to 100 grams of insulation. If you're going to be skiing in freezing conditions, you'll definitely want something closer to 100 to 200 grams of insulation.
Whether you prefer hardshell jackets or softshell ski outerwear, there are options that will fit your needs, even options with adjustable hoods and cuffs. Just remember to skip the down jacket when skiing. Puffer jackets are likely to keep you too warm while active and retain moisture, making them not ideal for your time on the slopes.
Instead of taking your down jacket on your ski day, try one of the best ski jackets for men that mix performance, insulation, and cool style.
Best Ski Jacket for Long Ski Trips
Columbia Whirlibird IV Insulated Interchange Jacket
The Columbia Whirlibird IV Insulated Interchange Jacket may be a mouthful, but its name says everything you need to know. It's great to last all trip long, featuring a water-proof polyester outer shell and warm, 100% nylon insulation. It has countless pockets for all your essentials—including for your ski pass, goggles, interior, and chest—and an adjustable hood, not sacrificing performance regardless of its affordable price
Best Ski Jacket for Backcountry Skiing
Montec Dune Ski Jacket
Montec's Dune Ski Jacket means serious business—and will keep up with you all day on the mountain. It's rated 20k/20k for waterproofing and breathability, the highest you can get, with its hydrophilic membrane technology (seriously). Its layer of compact insulation keeps you warm wherever you are, and it packs nicely for trips in and out of the backcountry. And the features don't stop there, with two handwarmer pockets, underarm vents, and more
Best Ski Jacket for The Conscious Consumer
The North Face ThermoBall Eco Snow Triclimate Jacket
The North Face is royalty among the best ski jacket brands, and this one was designed especially for skiing and snowboarding, coming in seven distinct colorways for statement-making ski style. Importantly, it's made from recycled material, keeping "your body warm and your conscience clean." But it packs plenty of features for long trips on the mountain, including a removable hood, protected media pocket, and waterproof, wind-resistant construction.
Best Investment Ski Jacket
Arc'teryx Sabre AR Jacket
While its price is no cakewalk, The Arc'teryx Sabre AR Jacket means serious business—originally designed for freeride touring, keeping performance flexibility and breathability in mind. It comes with a flannel liner for extra warmth, pit zips for quick ventilation (without letting moisture get through), an integrated powder skirt for a more secure fit, and even security pockets for your belongings. Plus, the hood of the coat is helmet-compatible, prioritizing safety along with durability.
Patagonia Men's SnowDrifter Jacket
If you love to take a ski trip here and there, the SnowDrifter Jacket is a smart investment. It's lightweight, flexible, and pretty damn waterproof, made with Fluorinated DWR (durable water repellant, obviously) finish. You can also feel good about your purchase, as well: The 3-layer protection is made from 70% recycled stretch fabric. This hardshell jacket acts as yet another insulating layer and also can hook to snow pants—complete with reflectors for extra visibility.
Best Ski Jacket for Light Packers
L.L. Bean Men's Waterproof PrimaLoft Packaway Jacket
Don't be fooled by the PrimaLoft Packaway's lightweight construction—it packs a serious punch. (As one reviewer noted, "Just came in from 22-degree weather with 29 mile-an-hour winds, and with this coat, those conditions are no bother!") Its 100% nylon shell is perfectly flexible for any adventure, and you're kept warm with a fusion of 60-gram PrimaLoft Gold insulation and Cross Core tech (which happens to feature tech developed by NASA). Rounding it out is an adjustable hood, two chest pockets and hand pockets, and a longer length for better coverage.
Best Budget Ski Jacket
Armada Bristal Insulated Anorak Jacket
You can safely expect to spend a good amount of cash on a ski jacket, usually around $200. Armada's is the exception without sacrificing quality. It's made from a 10k/10k waterproof/breathability membrane—so, all in all, pretty good—and recycled Polyfill insulation to keep you warm wherever you might find yourself. Both layers act as more than sufficient protection from the elements. With an adjustable hem and cuffs and standard fit, it'll wrap around you just right. Plus, we love the simple, sharp design. Pick this up if you're on a budget.
Best Water-Resistant Ski Jacket
Marmot Men's Refuge Jacket
This leak-proof ski jacket is designed to be waterproof and windproof along with the best of them, making this an ideal jacket for wet conditions with its well-rated construction. With flexible elbows for enhanced mobility and safety reflectors, the Marmot Refuge Jacket has all you need for performance and protection. Internal and external pockets keep your gear secure and accessible, with protective zippers guaranteed to keep moisture out. Plus, the fixed powder skirt prevents snow and sleet from getting under your jacket.
Best Overall Ski Jacket
Patagonia Men's Snowshot Jacket
Of course, a ski jacket or ski shell can double as a winter coat. But Patagonia's Snowshot is the perfect option if you're looking for a jacket that does it all—and more. It's got an extra focus on mobility and versatility, made with a two-layer shell that keeps it breathable and waterproof. An articulated fit helps it hug your body just right while letting you keep on moving, and an inner mesh liner keeps you comfortable, whether you're hitting the slopes or traipsing around the city.
Best Ski Jacket for Blizzards
Topo Designs Men's Mountain Jacket
Created for cold alpine environments, the Topo Designs Mountain Jacket is built to withstand pretty much anything. On the outside, you have a nylon fabric that keeps up with the elements. Inside, it's filled with eco-friendly synthetic, well, fill that's made from 100% recycled plastic bottles. It's cut to a relaxed fit, so it has a sharp, urban-looking quality, while cargo-like pockets create a lot of room for everything you need. As if that's not enough, each coat saves 27 bottles from landfills.
Best Jacket for Tech-Heads
Helly Hansen Alpha 3.0 Jacket
This Helly Hansen ski jacket features the ski brand's most cutting-edge tech: an all-new, integrated pocket that keeps your device charged for longer while you're up on the mountain in case you're in the mood for endless selfies up there. Or, well, in case of emergencies too. The outer fabric is a four-way breathable, waterproof shell, and inside, you've got premium synthetic insulation and an H2Flow v enting system that keeps you cool while you sweat on the mountain. The entire jacket is engineered to keep you safe, warm—and charged up.
Best Ski Jacket for Bigger Guys
Outdoor Research Carbide Jacket
This sturdy, 100% nylon ski jacket from Outdoor Research is hefty, but still plenty waterproof and breathable with included underarm vents, and its fully sealed seams help prevent any moisture from getting in. Its looser fit makes it the perfect choice for bigger guys—or for easier layering if you need it. There are also plenty of pockets for all your ski essentials, from phone to first aid, and it even comes with a wire-brimmed Halo Hood that's helmet-compatible.
Best Ski Jacket for Freezing Temps
Spyder Rocket Down Jacket
You know it's going to get cold up there, so grab this jacket from Spyder that's tailor-made for extremely cold temps with a wool-like nylon and Gore-Tex Infinium laminate. Sounds intense, right? It doesn't stop there, with 650-fill power goose down for even more added warmth, durable and reliable YKK zippers that won't break down on you, and it all comes in a package that weighs about a pound. Oh, and it's the authentic jacket of the U.S. Ski Team, in case you needed any more bona fides
Best Ski Jacket for Guys Who Run Hot
Columbia Men's Bugaboo II Fleece Interchange Jacket
With a waterproof breathable shell and thermal-reflective fleece liner, this jacket gives you the versatility of a warm jacket that won't overheat you. It's part of Columbia's patented heat reflective garments—the liner is made of a metallic dot pattern that helps you retain your body heat while dissipating it through breathable fabric. Just in case you get too hot, the inner fleece liner can be removed. And adjustable hoods, cuffs, and hems add even more to its versatility
Best Ski Jacket for Unexpected Weather
66 North Katla Jacket
This feature-packed parka from the other side of the pond has it all, starting with the weatherproof GORE-TEX shell that's rated for 28,000 mm waterproofness (that's a lot of waterproofness). Taped seams keeps even more moisture out, and light microfiber insulation keeps you cozy on the ski slope without making you sweat. The minimal design also includes several subtle touches—like hidden pockets and zippers and a detachable hood. It stands up to its name: an active Icelandic volcano. Serious business.
Best Ski Jacket for a Retro Look
Burton Frostner Jacket
Burton's Frostner jacket not only keeps you warm and dry but looks slick as hell: it's inspired by retro ski jackets and infused with modern technology. That includes: A two-layer outer shell that's 10k/10k waterproof and breathable rated (pretty solid), fully taped seams that keep any unpleasantness out, and a lining with embossed taffeta that gives you constant, consistent temperature regulation. Plus, a two-way front zipper and mesh-lined zip vents. This jacket looks just as good as it performs.
Best Mid-Range Ski Jacket
Columbia Last Tracks Insulated Jacket
Columbia's inexpensive and totally effective Last Tracks hardshell men's jacket contains Omni-Tech breathable fabric to help you stay cool—and Omni-Heat synthetic insulation to keep you warm at the same time. So whether you're hitting the slopes or just out and about, it's a great jacket with plenty of versatility. With an adjustable hood, an internal key clip, an adjustable powder skirt, and even a ski pass pocket, it's everything you need on or off the mountain—at a pretty decent price
Best High-Tech Shell
Helly Hansen Sogn Shell 2.0
Helly Hansen's fantastic Sogn Shell is made for serious powder sessions (people say that, right?). Its 3-layer, pro-grade matte fabric is wind- and waterproof, while still staying plenty breathable. It's treated with DWR (durable water repellent) coating that makes it even more waterproof. In case you get into trouble, an embedded reflector enhances radio signals from search-and-rescue teams—after all, you never think it could happen to you until it does. It even has an insulated pocket that helps you preserve your phone's battery life. Talk about high-tech.
Best Ski Jacket for Big Spenders
Arc'teryx Macai Jacket
As they say, you get what you pay for—and Arc'teryx's Macai jacket justifies its thousand-dollar price with a suite of features. That includes a fully waterproof and windproof Gore-Tex fabric, strategic insulation, and breathable material that allows moisture vapor to escape, regulating your temperature while skiing or snowboarding. One of the marquee features has to be the 750-full European Goose down that keeps you warm in the sleeves, and an insulated hood so your noggin doesn't freeze. Yeah, it's pricey, but it's worth it if you're a serious skier.
Black Diamond BoundaryLine Insulated Jacket
blackdiamondequipment.com
$399.99
Don't get stuck being cold out there without this fully insulated jacket, featuring a super warm and hearty construction. It comes with plenty of stretch in the 20k/20k (super waterproof/super breathable) outer shell, and a superior DWR (again, durable water repellent) treatment that's extra durable and more environmentally friendly. Inside, you've got tough Thermolite synthetic insulation to keep you comfortable and moving. Plus, underarm vip vents dump heat you don't need while you're on the ski lift. With all these features, it makes a perfect ski jacket, winter jacket, or hiking jacket.
Best Ski Jacket for All-Around Use
REI Co-op First Chair GTX Jacket
REI's own Co-op First Chair GTX Jacket is a Goldilocks of a skiing jacket. At a reasonable price, you get a tough, two-layer Gore-Tex outer shell with a PFC-free durable water repellent treatment that makes moisture bead on the surface—all in the name of keeping you cool and dry on the slopes. The lining is made from water-resistant, recycled polyester, and it's designed so that you can even add insulation if you need it. You even get a media port to store your cell phone while you're in action. We definitely recommend grabbing one of these—especially when it's on sale
Eddie Bauer Powder Search 2.0 3-In-1 Down Jacket
This shell combines some of the best-looking materials and coloring with modern tech: a fully seam-sealed, two-layer polyester shell on the outside, and a zip-in down liner inside that you can take or leave, depending on the temperature outside. You get a detachable helmet-compatible hood and powder skirt for when you're skiing—but even traipsing around the city, you can leave those at home and still look pretty sharp. Adjustable cuffs, hem, and several secure pockets round out this great all-around jacket.
Norrona Lofoten GORE-TEX Pro Jacket
It all says it in the name: this Norwegian ski jacket is among one of the most perfect hardshell jackets out there with its GORE-TEX Pro shell, guaranteeing your dryness while staying breathable when you're on the mountain hitting the powder. It also features a removable powder skirt, large underarm ventilation, fully-sealed seams, and an adjustable hood that can be worn over even the biggest of helmets. Did we mention they're from Norway? We're thinking these guys know what they're doing.
This content is created and maintained by a third party, and imported onto this page to help users provide their email addresses. You may be able to find more information about this and similar content at piano.io
Note: This article have been indexed to our site. We do not claim legitimacy, ownership or copyright of any of the content above. To see the article at original source Click Here