written byAdamGuthrie ,September 27, 2021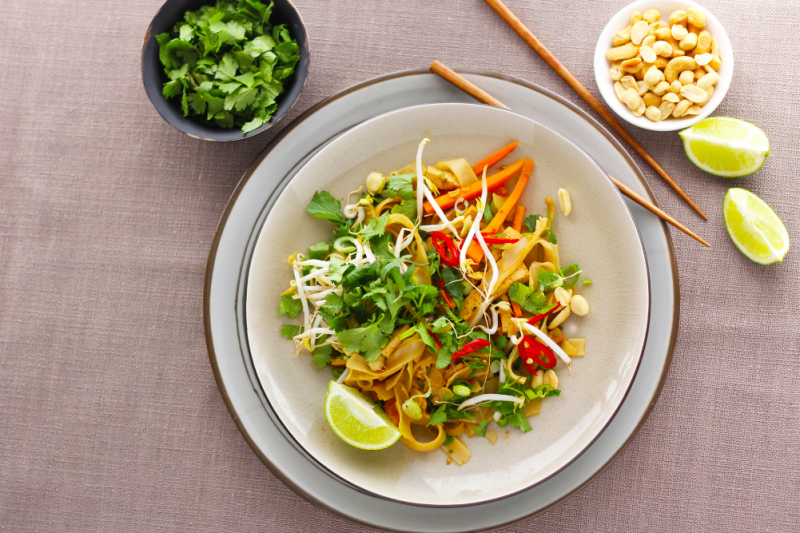 Image: Adam Guthrie
Pad Thai is traditionally made with eggs, fish sauce and dried shrimps, but I've swapped these out to create an awesome, quick-to-cook vegan version that is full of traditional flavour and texture.
Serves: 4
GF, VG
Ingredients
Method
½ onion, sliced into thin crescents
2 cloves garlic, thinly sliced
1 carrot, cut into matchsticks
1 tomato, roughly chopped
½ tbsp dark miso
1 tbsp tamarind purée
½ cup water
375g packet pad thai rice noodles, cooked
2 tbsp coconut sugar
4 tbsp soy sauce or tamari
1 cup peanuts, roughly chopped
4 spring onions, thinly sliced
1 handful bean sprouts
Juice 1 lime
1 handful fresh coriander leaves, roughly chopped
1 small red chilli, thinly sliced
Heat a wok over high heat. Add the onion and garlic and sauté for 1 min.
Add the carrot, tomato, miso, tamarind and water and stir. Then add the cooked noodles and combine well.
Add the coconut sugar, soy sauce, peanuts, spring onions, bean sprouts and the lime juice and stir to combine.
Remove from the heat and toss through the coriander leaves.
Top with sliced chilli and serve.
| | | |
| --- | --- | --- |
| |   | Adam is a vegan whose passion for food began with a life-threatening illness and continues today in a lifestyle built around healthy cooking and eating. Adam is a qualified chef and wellness coach who specialises in a wholefood, plant-based diet. Adam shares how to prepare delicious, healthy food for health, energy and vitality. He conducts online healthy eating and wellness programs and gives keynote talks, live cooking demonstrations and cooking classes on the subject of healthy eating and living well. |
Note: This article have been indexed to our site. We do not claim ownership or copyright of any of the content above. To see the article at original source Click Here