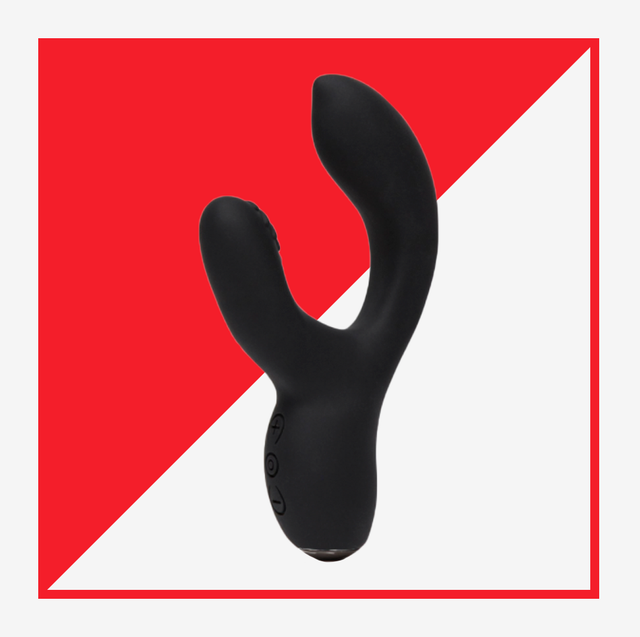 Not to brag, but I am an anal aficionado. I love putting sex toys (among other things) up my butt and up the butts of others. That's because it feels damn good, thanks to human anatomy—and of course, a healthy dose of lube. "There are about 2,000 pleasure-sensitive nerve endings around the anus," explains Megwyn White, clinical sexologist and director of education for Satisfyer. "So, there's ample opportunity to excite the body, regardless of your gender, with a little touch and pressure around this area."
Personally, I like to use an anal sex toy such as a prostate massager during sex, which stimulates the so-called "male g-spot." "Cisgender men and people assigned male at birth have an added opportunity for stimulating the prostate—a walnut-sized gland that sits within the groin just behind the bladder and penis," White says. When properly stimulated, it can feel "heavenly," she adds.
Now there is a wide range of anal sex toys depending on what you're hoping to get out of the experience and which sensations you find most pleasurable. So before giving any recommendations, I want to break down the most common toys to help determine which one is right for you.
Butt plugs are teardrop-shaped toys, typically made of silicone, metal, or glass. Some vibrate; others have rotating beads at the base of the toy to simulate rimming. Pop a butt plug in your rear end and let it rest there for a satisfying feeling of fullness.
Anal beads look kind of like rosary beads, except chunkier, and instead of praying with them, you put them in your butt. While you absolutely can use anal beads for solo play, they're fun to use with a partner since they're more interactive. "Anal beads are designed to stimulate the anal sphincter through movement," explains Alicia Sinclair, founder of anal sex toy company b-Vibe. When pulled out, each sphere delivers a quick burst of intense sensation. Part of the fun of anal beads is seeing how many of them you can take, but it's also relinquishing control to your partner. They can pop each one out and watch you shake with pleasure.
Prostate massagers are curved toys that target your prostate and deliver earth-shattering, toe-curling, full-body orgasms. (Typically they vibrate, too!) There are two main types of prostate massagers: ones with and ones without perineum stimulation. (The perineum, aka the taint or grundle, is that strip of skin between your testicles/vulva and your anus). Those with perineum stimulation are typically V- or C-shaped; not only does the extra arm provide added pressure to the often ignored erogenous zone, but it also helps keep the prostate massager in place.
Now that you have a sense of the different anal toys, I've compiled a list of the best 30 anal sex toys. Don't worry, I made sure there are things on this list for folks who've never had a pinky up their rear end, as well as for men who've taken a fist. Have some fun, my dudes.
1Rimming Plug Petite
This butt plug actually simulates the sensation of analingus (a.k.a. rimming). It feels euphoric to have something vibrating inside of you while your anus is stimulated, too.
2Booty Call
Satisfyersatisfyer.com
$14.95
"The Satisfyer Booty Call plugs are made of soft silicone with three ascending sensual shapes for targeting pressure points like the prostate," White says. "You can use these plugs as a wonderful intro to anal play, and in combination with vaginal penetration, which can add a huge boost to sensations."
3Hugo Prostate Massager
I'm well aware the Hugo isn't cheap, but if you want quality, there's no better prostate massager currently on the market. The Hugo's remote control is what separates it from the pack. By simply tilting the remote, you control the intensity and placement of the vibrations.
4Unicorn Butt Plug
The people who love unicorns really freakin' love unicorns. If you or your partner wants to feel like the mythical horse, get this butt plug, which has a magnetic attachment of a long rainbow tail!
5Butt Tingler
Lovehoneylovehoney.com
$26.99
This 4-inch vibrating butt plug is one of the best inexpensive vibrating butt plugs available. It's made of soft silicone and is a great option for folks interested in a medium size plug.
6Desire Luxury Rechargeable Girthy P-Spot Vibrator
Lovehoneytoysex.ninja
$69.99
Given that the toy is girthier, the Desire prostate vibrator is a great option for men who are a bit more experienced with anal. It also has really strong vibrations, which feel stupendous.
7Pure Plug Medium
The Pure Plug is a stainless-steel anal plug that is available in three size options. "This unique plug offers both fullness and weight to the experience of anal play," White says. "The smooth stainless steel allows this plug to be used for temperature play and can easily hold safe hot and cold temps for added excitement. It also means that you can utilize it with a silicone lube, which many people prefer for anal play as it has a thicker viscosity."
8Vibrating Snug & Tug
You get a two-for-one deal with toy: a vibrating butt plug and a cock ring. The vibrations from the butt plug are actually so strong that you feel them in the cock ring!
9Cannonballs Large Silicone Anal Beads
Unbrandedlovehoney.com
$29.99
Not for the faint of heart, these meatier anal beads feel divine when "popped" out of the anus one by one. They feel particularly pleasurable when removed during orgasm.
10Anal Training & Education Set
b-Vibeamazon.com
$149.97
If you are new to anal play, but just know you're going to be obsessed with it, then go ahead and get the anal training kit from b-Vibe. It comes with multiple butt plugs. (You start with the smallest and work your way up to the biggest.) It also comes with a lube shooter, anal douche bulb, and education manual to answer all your booty-related questions!
11 Vibrating Glass Prostate Massager
Pipedreamtheenhancedmale.com
$75.50
This is a vibrating prostate massager made of glass. Typically, glass toys do not vibrate, making this prostate massager extremely unique. (I actually didn't know they ever vibrated until this toy.)
12Tap It
Zero Tolerencehustlerhollywood.com
$89.00
Ergonomically designed to hit the prostate and the perineum, Tap It is different from other anal toys because it features an oblong-shaped tip on the head. It pops back and forth, creating a tapping sensation that sends vibrations throughout your entire body.
13Orville Anal Vibrator
I like this vibrating anal plug because of the ring at the bottom. It makes it much easier to control when engaging in solo play, but it's also great for partnered play too.
14Beaded Sensual Glass Dildo (7-Inch)
Lovehoneylovehoney.com
$39.99
Glass toys are underrated. They really give you a "full" sensation, since there's no give to them, but you can also put them in the refrigerator and use them while cold for additional sensation. (FYI: glass toys are made from special glass so they can't shatter inside of you. You don't need to worry about that!)
15Love Beads
Satisfyersatisfyer.com
$19.95
"The Love Beads are a great intro to anal play for all genders," White says. "There's no need to insert the entire length of the beads. Having a few inside and pulling the retainer ring from right to left or in a circular motion will set off muscle relaxation and trigger an arousing effect."
16Anal Beads (8-Inch)
Lovehoney BASICSlovehoney.com
$12.99
These look more intimidating than they are. I actually have (and reviewed) the BASICS 10-inch anal beads. (These are the 8-inch.) The top few beads are so tiny, you really don't feel them until they're deep inside of you.
17 Stainless Steel Faux Fox Tail Butt Plug
DOMINIXlovehoney.com
$39.99
This unique metal plug features three inches of insertable length and has a faux fur tail at the end. "Perfect for role play, this plug allows you to use the soft tail end as an added source of sensorial fun," White says. "Safe for use with all lubricants, you can enjoy this flirty anal plug for a fantasy-filled night and primal romp."
18Triplet Anal Beads
Typically, if it vibrates, it feels better. The same holds true for anal beads. These vibrating anal beads feel fantastic when inside of you, and really get up in there!
19Classic Butt Plug
Doc Johnsonfeelmore510.com
$24.99
This classic butt plug from Doc Johnson is great for the man who wants a high-quality plug without any bells or whistles.
20Anal Trainer Kit
California Exotic Noveltiesfeelmore510.com
$42.99
Another anal training kit, if you're looking to work your way up to bigger and better things.
21Grey Wolf Tail Anal Plug and Ears Set
XR Brandsorganicloven.com
$49.99
This wolf tail butt plug actually comes with ears too. It can be a cute little thing either you or your partner wears during sex (or while out at a sex club).
22Duke Prostate Vibrator
Fun Factoryorganicloven.com
$99.99
I wrote a full review of the Duke Prostate Massager where I make clear that this toy is not for beginners. It gets really up inside your rectum, while also stimulating your prostate and perineum. It's definitely a great option for people who have more experience with anal play.
This powerful, waterproof massager is perfectly angled to hit your prostate. The grip makes it easy to use by yourself when on you're back.
24Black Puppy Tail
Oxballsoxballs.com
$59.00
If you or your partner are into "pup play" where one of you dresses up and acts like a puppy, then this butt plug puppy tail is perfect for you!
25Trident Prostate Massager
Aneroslovehoney.com
$69.99
This toy is on the smaller side, making it a great intro toy for people who are interested in prostate play, White explains.
"The comfortable flared base with added ribbing texture at the stem offers stimulation to both the perineum and the Kundalini spot (K-Spot) just above the upper cheeks," White says. "The combination of pressure in each of these areas is said to help support the ultimate hands-free orgasm for cisgender men or people with prostates."
26Dark Inflator Silicone Inflatable Anal Plug
XR Brandsbettystoybox.com
$26.99
This product features a slim insertable plug that expands inside your rectum with the use of an attached pump. "It's a great product if you want to work on stretching the muscles inside you," White says. "The erotic fullness feels amazing and the quick valve release allows you to easily decrease the pressure inside safely and quickly."
27Vector Prostate Massager
You'll notice that the Vector has a more bulbous head that really hits the prostate. The bottom section of the toy hugs and stimulates your perineum for added pleasure.
28Vice 2 Prostate Massager
I wrote a full review of the Vice 2 where I mention how fantastic it felt due to its shape. It hits both the prostate and further back inside your rectum.
29Snug Plug 2
This snug plug is weighted, so you feel a nice heaviness when it's inside of you. Some folks, like myself, love the weighted feeling because it adds pressure and makes you feel "full"—but in a good way.
30Ease-In Anal Dilator Kit (5 Plugs)
Size Matterslovehoney.com
$59.99
This is the ultimate anal training kit if you're looking to increase what you can take inside your behind. The extra small plug starts with a 1-inch diameter, 3-inch circumference, and is 3.5 inches in length. The fifth and final extra large plug ends with a 2-inch diameter, 6.25-inch circumference, and is 5.1 inches in length. (That will really stretch you out!!)
Zachary ZaneZachary Zane is a Brooklyn-based writer, speaker, and activist whose work focuses on lifestyle, sexuality, culture, and entertainment.
This content is created and maintained by a third party, and imported onto this page to help users provide their email addresses. You may be able to find more information about this and similar content at piano.io
Note: This article have been indexed to our site. We do not claim legitimacy, ownership or copyright of any of the content above. To see the article at original source Click Here