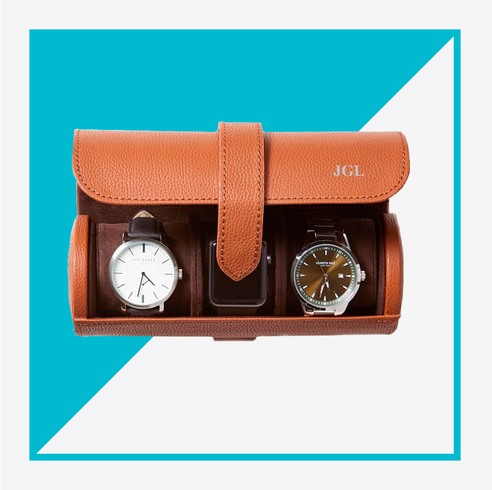 Courtesy of retailers
Thinking of gift ideas is no fun for anyone. Sure, finally finding the best gifts for your girlfriend, sister, or brother is a great feeling, but there's always that one family member that's the toughest to shop for. Yup, we're talking about dear old dad.
We all know that dad who seems to have everything and wants nothing, but the idea of showing up for Christmas dinner empty-handed just feels simply wrong. To show the father figure in your life how much you appreciate him, think outside the box with a unique gift for dad that he'll never expect, like a cool, personalized Christmas gift idea. You can also go for a more practical gift—you know, one that he can use daily for work or relates to one of his favorite hobbies. But if you're not going for a funny gift that'll give him a good laugh, opt for some really thoughtful Christmas gifts for dad, especially if the dad in your life is celebrating the holiday as a father for the first time.
To help you figure out the gift idea to give him this holiday season, we put in the hard work, searching through endless gifts for dad on Amazon and other top retailers, to find the very best Christmas gift ideas for any dad in your life, from stepdads to new dads.
Whether he's a gamer, fitness lover, whisky connoisseur, beer guy, golfer, or tech nerd we've got you covered with some seriously cool ideas—including some more expensive Christmas gifts for dad. We even have gifts for dads with no hobbies, if he doesn't have ultra-specific interests. From high-quality speakers and other cool tech gifts to top athletic gear that'll help him get fit and stay healthy, here are the best Christmas gifts for dad this year.
1 of 64
Easton Press Classics Books
It's perfectly acceptable to judge every one of Easton Press's classic books by its cover. Bound in genuine leather and accented in 22-karat gold, the deluxe collectible limited-edition tomes celebrate some of the world's greatest works of literature. Besides looking great on his nightstand or coffee table, there's an added bonus to investing in one: More than half of the profits from sales of the novels help support mental health research.
2 of 64
Filson Weatherproof Leather Original Briefcase
Filson doesn't make bags—they make heirlooms. The price may seem steep, but the weatherproof, vegetable-tanned leather (which comes from a 150-year-old Pennsylvania tannery Wickett and Craig) is boot-grade and salt-resistant, meaning it's built to last. The solid brass hardware and wool, felt-lined shoulder strap help elevate the look even more. The leather, meanwhile, will only look better the more you use it—and, no doubt, the more your grandkids keep using it.
3 of 64
Shinola Runwell Desk Clock
One look at Shinola's watches and it's plain to see why they have a reputation as some of the most beautiful American-made timepieces you can buy. Now imagine if you simply took the face from one of those watches, scaled it up, and turned it into a classic centerpiece for your home office. Inspired by the first watch Shinola ever made, these Runwell clocks are engineered to fit perfectly on any nightstand.
4 of 64
Jack Mason Avigator Watch
jackmasonbrand.com
$289.00
We've long admired Dallas-based Jack Mason for its ability to manufacture beautifully designed, elegant watches that don't require you to have a Bond villain's net worth to invest in. Take the timeless design of this Avigator chronograph: Inspired by the golden age of aviation, the watch pays homage to classic designs of the 1930s, but with modern flourishes like Swiss super luminova markings that allow the hands to glow in the dark. While it's inspired by those who took to the skies, it's also plenty safe for the sea since it's water-resistant for up to 100 meters.
5 of 64
Ugg Ascot Slipper
Give Dad something he never knew he wanted; glorious and cozy sheepskin slippers. Whether he's relaxing in front of the TV or walking to the curb for the morning paper, these slippers will travel with him indoors and out. The soft suede upper and sheep's wool lining will spoil his toes, while the hefty rubber sole protects his shoes and his feet from the elements.
6 of 64
The Ridge Titanium Wallet
Introducing the original RFID-blocking wallet. Both slim and functional, he'll never go back to that bulging Costanza wallet again. This model holds up to 12 cards and includes a money clip to secure his bills.
7 of 64
Sonos Roam
This little speaker from Sonos is big on sound and small in size. It seamlessly connects and works with any home Sonos network you have and easily pops in your bag for that great sound on the go. It's great in the gym, the pool, the beach, or camping.
8 of 64
Personalized Hobby Mug
Is your dad rarely seen without a golf club or watering can in hand? Honor him and his fave hobby with one of these hilarious and adorable custom mugs.
9 of 64
Dodow Sleep Aid Device
Dodow will help any guy fall asleep in half the time it normally takes. His breathing will sync with the light emitting from the device to create a tired sensation that will make him naturally fall asleep—it's genius.
Related: Check Out More Cool Sleep Gadgets
10 of 64
Dash Deluxe Sous Vide Style Egg Bite Maker
Is he the kind of busy dad who always skips breakfast? With Dash's popular egg bites maker, he can quickly make keto and paleo-friendly protein-packed breakfast bites to make sure he starts his day with the energy he'll need.
11 of 64
Apple AirTag, 4-Pack
Need a gift for a forgetful dad? This new tracker by Apple makes it easier to locate misplaced items such as car keys and wallets via iPhone's Find My app. Gift him a 4-pack so he can attach one to his keys, slip one in his work bag, and clip the others to anything else he misplaces on the regular. Plus, you can personalize this gift with his initials or fun emojis.
12 of 64
Omaha Steaks Steak of the Month Club Box
Meat lovers, rejoice! Omaha Steaks has a steak of the month club that includes up to eight juicy steaks for dad to fire up the grill. Gift him his first month's package of bacon-wrapped filet mignons and boneless New York strips. If dad really loves it, he can treat himself to another month's shipment.
13 of 64
Panasonic Cordless Beard Trimmer
Dad might own a beard trimmer or two, but we bet none of them are as good as this Panasonic powerhouse. With an ergonomic design and 19 precision settings for him to sculpt and trim his scruff into the perfect look, he'll instantly clear out room in his Dopp kit for the only cordless trimmer he'll ever need.
14 of 64
Anker PowerCore 10000
Anyone who's glued to their phone all day will seriously appreciate Anker's top-rated power bank that can delivery multiple charges in less time than its competitors.
15 of 64
Polo Ralph Lauren The Custom Polo
Why buy your dad an ordinary polo shirt when you can gift him a unique, personalized one instead? Polo Ralph Lauren now allows you to totally customize the timeless menswear essential with different styles, colorways, logos—the works! Add custom text to the left or right cuff that makes this gift extra special.
16 of 64
Louis Vuittton Imagination
If anyone can capture the essence of what a man wants to smell like, it's Louis Vuitton's master perfumer Jacques Cavallier Belletrud. The fragrance begins with a burst of freshness that smells clean, citrusy, and green which then settles into a spicy, warm, sensual aroma, thanks to ingredients like amber and black tea. It's one of the most unique, masculine scents on the market.
17 of 64
Bravo Sierra Daily Set
If dad hasn't jumped on the skincare bandwagon yet, Bravo Sierra is a great place to start. The brand makes quality, affordable grooming goods for your hair, skin, and body that's been tested by the military. Trust us, he'll be hooked on this daily set.
18 of 64
PhoneSoap Go Smartphone Sanitizer & Portable Charger
This unique and thoughtful gift will help dad to keep his phone germ-free. Phone Soap's popular sanitizer is battery-powered, so he can take this fun, useful gadget on all his travels.
19 of 64
The "I Love My Air Fryer" Keto Diet Recipe Book
Getting Dad on the Keto diet won't require much convincing, especially after he glimpses over the 175 delicious recipes in this specialty cookbook. All are healthy, easy-to-make meals that he can cook up in an air fryer, eliminating carbs and grease splatter in the process. Bacon, steak, tofu, and even desserts—it's all fair game.
20 of 64
Nice Laundry 6″ Personal Edition Pocket Lounge Short
If your dad's not the pajama set type of guy, gift him some seriously soft, personalized lounge shorts to wear on any lazy Sunday. This pair from Nice Laundry has the mesh detail of basketball shorts, but with a heavenly soft micromodal lining.
21 of 64
Herschel Supply Co. Ultralight Duffle
Now that dad's gearing up for weekends away and daily summer adventures, it's a really good time to gift him a sleek and lightweight duffle bag. When he's not using it, it can easily be packed into a small storage pocket, allowing him to save space in his closet or car trunk.
22 of 64
Mark and Graham Travel Watch Roll
This personalized carrying case is just what the watch-loving dad needs. Wherever he goes, his precious timepieces will be safe and secure in this sleek leather roll.
23 of 64
Man Crates Hot Sauce Making Kit
Is dad a hot sauce lover? This unique gift idea allows him to concoct his own fiery condiments to spice up all of his favorite dishes.
24 of 64
Victorinox Huntsman Swiss Army Knife
Victorinox's Huntsman Swiss army knife is a classic gift idea for any outdoorsman. Now you can customize it with a personal message that will make him treasure this useful tool forever.
25 of 64
FringeFavors Dad Bod Can Cooler
Looking for a cheap-but-funny gift for dad? This can cooler is a total winner for the beer lover who wants to drink like a king.
26 of 64
Men's Health Kettlehell Sweatpants
Fitness-loving dads need some comfy sweats for that post-workout chill. Score him our very own Welcome to Kettlehell sweatpants, and while you're at it, pick him up the Kettlehell DVD. The DVD includes six 20-minute workouts for both your upper and lower body, conditioning routines to build muscle, as well as tips to modify your workout to meet your personal fitness goals.
27 of 64
Shutterfly Head Grill Master Cutting Board
Before your old man fires up the grill, he'll need to food prep with the best gear. Gift him this popular cutting board for the perfect personalized gift for dad.
28 of 64
Jack Daniel's Gentleman Jack Double Mellowed Tennessee Whiskey
A good bottle of Jack always hits the spot with the whiskey-loving dad. Make it special with personalized engraving for no extra cost. The bottle might not last forever, but the moment your pops sees that special message, the memory will be a lasting one.
29 of 64
Tim's Wood Designs Personalized BBQ Tools Set
There are plenty of personalized gift ideas for your old man, but if he's a serious grill master, this is by far the best option for him to receive this year.
30 of 64
Birchbox Monthly Subscription Box
Help dad clean up with Birchbox's top grooming goods delivered to his door every month. Each box is only $10 a month, and there are tons of different plans to choose from.
Note: This article have been indexed to our site. We do not claim legitimacy, ownership or copyright of any of the content above. To see the article at original source Click Here